Nikko is not just glorious world heritage sites (shrines and temples),
but also proud of plentiful nature.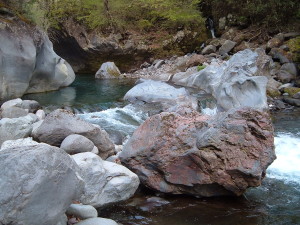 Kanmangafuchi Abyss
Landscape of this scenic abyss was made by lave of eruption of Mt. Nantai.
Those giant rocks have been shaped by water flow for long lasting times.
---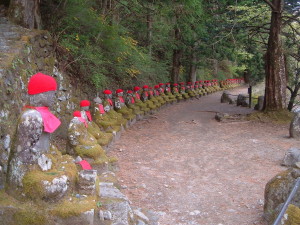 Bake-jizou
A group of jizou stands along Kanmangafuchi Abyss.
Number of Jizous will never match to the actual number even though you count many times. It is like a ghost. The ghost literary means "Bake" in Japanese.
The coloring contrast between mossy green and red clothing is beautiful.
---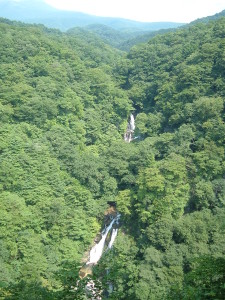 Kirifuri Fall
The total height of this fall is 75 meters. The water hit the rocks as if fog comes down. By the way, Kirifuri literally means coming down of fog. It became the name of this waterfall.
There is an observatory in front of the waterfall, and you can look at powerful figure of the whole waterfall. That view harmonizes neighboring landscape and you can enjoy green leaves and autumnal leaves. Especially, autumnal leaves are beautiful.
---

Lake Chuzenji
Lake Chuzenji is a representative lake of Nikko.
The basic landscape of today's Lake Chuzenji was made by eruption of Mt. Nantai about 20,000 years ago.
---
Kegon Fall
Kegon waterfall is the most famous among all falls of Nikko.
The fall is 97 meters high and you will enjoy powerful flow and seasonal beauty there.
---
Sightseeing map nearby Turtle Inn Nikko